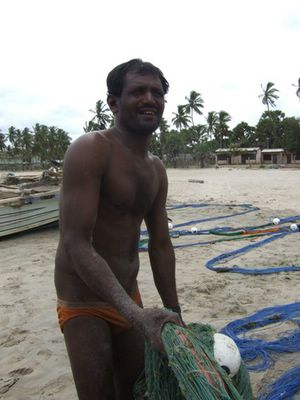 "Fishing has become a very difficult job here. Because we can't go beyond five kilometers to fish.Therefore the catch is very less", says Senkanthi (44) of Kanniya
Uppuveli has a beautiful beach. Aqua sports such as wind surfing, rowing used to take place in the Uppuveli beach earlier. But due to the situation tourists arrivals are less than year before according to the hoteliers in this area.
The beach is empty with some fishermen from Kanniya come here to fish. They neither stay long in the sea nor shore. They try to sell the fish on the shore, and leave home as quickly as possible. They stay almost twenty kilometers away from the sea.